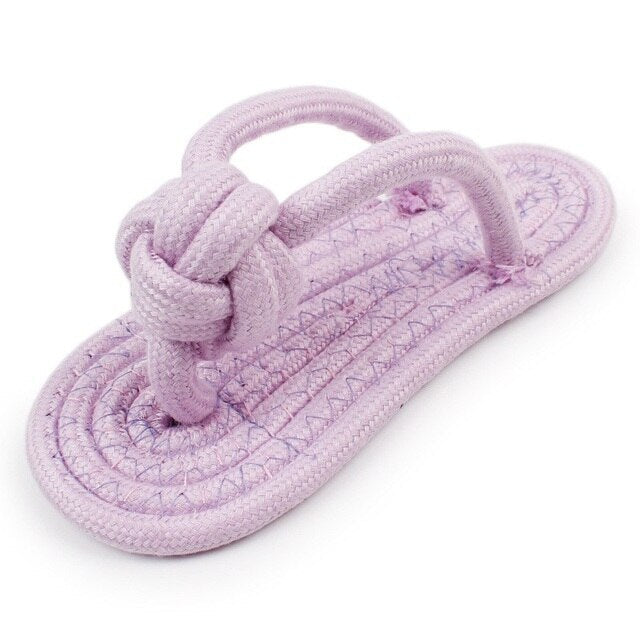 Purple Cotton Slipper Rope Toy
Introducing our Chewing Cotton Slipper Rope Toy, the perfect choice for both small and large dogs in need of engaging playtime and dental care. This interactive dog toy is designed to provide hours of entertainment while also promoting healthy teeth and gums.

Crafted from durable cotton, this slipper-shaped rope toy is built to withstand the enthusiastic chewing of even the most energetic pups. It offers a combination of fun and practicality, making it an essential addition to your furry friend's collection of toys.


Teeth Training

 

:

 

The rope's texture helps clean your dog's teeth and gums as they chew, reducing plaque buildup and promoting better oral hygiene.


Molar Stimulation :

 

The unique slipper shape and cotton fibers offer excellent molar stimulation, contributing to your dog's overall dental health.


Interactive Play :

 

Engage in interactive play sessions with your pet, fostering a strong bond and providing mental stimulation that helps alleviate boredom.


Durable Design :

 

Crafted with quality cotton, this toy is built to withstand rigorous chewing, making it suitable for both small and large dogs.

Make this delightful and sturdy rope toy a part of your dog's routine, providing not only endless entertainment but also contributing to their dental well-being. Elevate their playtime experience and indulge in the joy of seeing your furry companion happy, active, and content.
We are a company specialised in e-commerce founded in 2018, and since then we have managed countless of online stores.
Our mission is supplying you with the latest, most interesting and useful items whilst providing and excellent customer experience.
We believe that e-commerce is today's way of shopping and that it will grow more and more in the future. It provides us with many conveniences - we don't have to go further than our bed in order to do our shopping. We can instantly check the reviews of a particular product from people who already purchased. We take those features and try to take them to the next level so you can get the best possible experience.

Contact :support@woofchewy.com
WOOFCHEWY®.
HAPPY WOOFCHEWY® CUSTOMERS!
" Super fast and convenient shipping. The quality is excellent."
" Ever better than expected, exactly like described and pictured."
" Thank you WOOFCHEWY for you amazing support !"