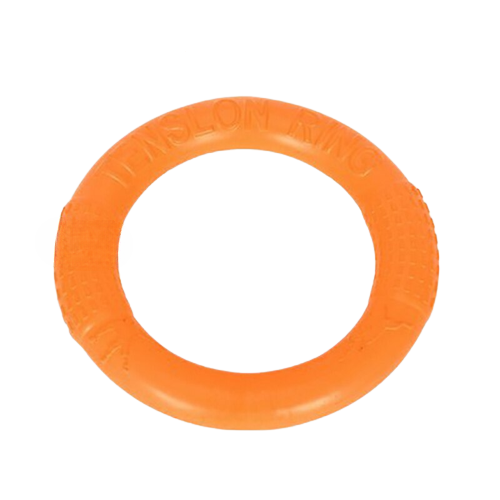 Orange RingPaw Interactive Training and Play Toy
Introducing the Orange Flying Disk — the ultimate interactive training ring designed to elevate playtime for your furry friend. Here are the benefits that make it a must-have for every dog owner.


Durable Fun : Crafted from sturdy EVA material, this disk can withstand vigorous play and pulling, ensuring hours of entertaining interaction.


Engaging Play : The interactive design promotes active play, keeping your dog mentally and physically stimulated while strengthening your bond.


Training Tool : Use the disk for training sessions, encouraging agility and responsiveness as your dog chases, retrieves, and pulls.


Resilience : Built to withstand rough play, this disk is resistant to wear and tear, making it a reliable companion for playdates and outdoor adventures.


Exercise Efficiency : The flying disk encourages running and leaping, providing your dog with a healthy outlet for excess energy and helping maintain overall fitness.


Vibrant Color : The eye-catching orange color makes it easy to spot, both for you and your dog, enhancing the joy of interactive play.

Elevate playtime and training moments with the Orange Flying Disk — where durability, engagement, and active fun come together in one exciting package.
We are a company specialised in e-commerce founded in 2018, and since then we have managed countless of online stores.
Our mission is supplying you with the latest, most interesting and useful items whilst providing and excellent customer experience.
We believe that e-commerce is today's way of shopping and that it will grow more and more in the future. It provides us with many conveniences - we don't have to go further than our bed in order to do our shopping. We can instantly check the reviews of a particular product from people who already purchased. We take those features and try to take them to the next level so you can get the best possible experience.

Contact :support@woofchewy.com
WOOFCHEWY®.
HAPPY WOOFCHEWY® CUSTOMERS!
" Super fast and convenient shipping. The quality is excellent."
" Ever better than expected, exactly like described and pictured."
" Thank you WOOFCHEWY for you amazing support !"