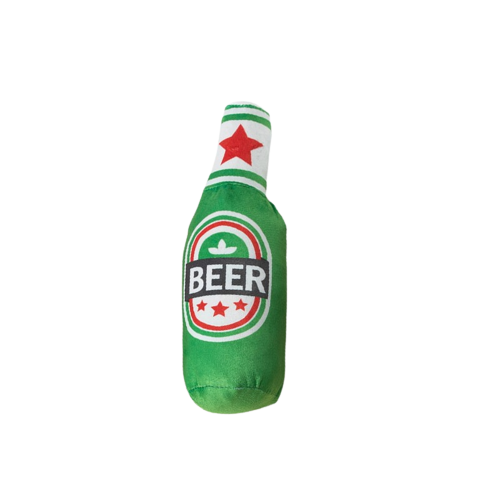 Green Beer Interactive Chew Toy
Introducing the Crisps Comedy Crunchers – Transforming dental care into a side-splitting adventure for your furry friend! Inspired by your pup's adoration for tasty treats, these innovative dog toys are designed to bring laughter and maintain their oral hygiene. 


Playful Shapes :

 

Delight your pup with toys that resemble their favorite snacks – bags of chips and juice boxes. These whimsical shapes are sure to tickle their funny bone and provide endless entertainment.


Giggle-Inducing Playtime :

 

Watch your doggo revel in playtime like never before. From enthusiastic chews to playful tossing and romping, these toys will have your furry friend laughing, just like you!


Dental Health Delight :

 

Beneath the laughter lies a purposeful mission. The cleverly designed textures and robust construction offer a satisfying chewing experience, doubling as a tool for tartar control and gentle gum massage.


Upgrade Their Play :

 

Say goodbye to ordinary toys and welcome the extraordinary. Elevate your pup's playtime with "Crisps Comedy Crunchers," ensuring that their oral health is well taken care of, all while they revel in amusement.

Treat your furry companion to Crisps Comedy Crunchers and witness their dental care routine transform into a rib-tickling escapade. Let their vibrant joy and healthy smile become the highlights of every playtime session! 
We are a company specialised in e-commerce founded in 2018, and since then we have managed countless of online stores.
Our mission is supplying you with the latest, most interesting and useful items whilst providing and excellent customer experience.
We believe that e-commerce is today's way of shopping and that it will grow more and more in the future. It provides us with many conveniences - we don't have to go further than our bed in order to do our shopping. We can instantly check the reviews of a particular product from people who already purchased. We take those features and try to take them to the next level so you can get the best possible experience.

Contact :support@woofchewy.com
WOOFCHEWY®.
HAPPY WOOFCHEWY® CUSTOMERS!
" Super fast and convenient shipping. The quality is excellent."
" Ever better than expected, exactly like described and pictured."
" Thank you WOOFCHEWY for you amazing support !"