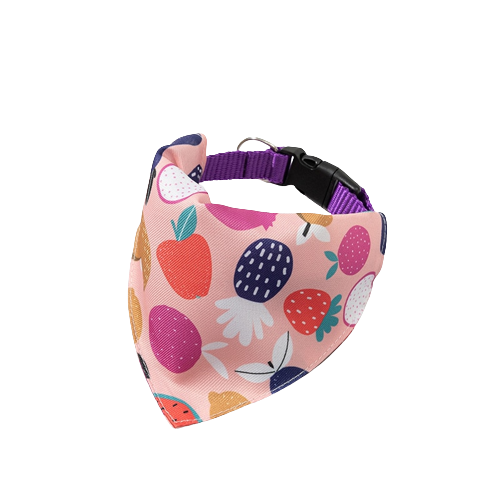 Fruitful Delight Bow Tie Collar Bandana
Presenting the Fruitful Furry Fashions Triangle Bandanas Collection – where style, coziness, charm, and a hint of fruity fun come together to create the ultimate fashion statement for your cherished small furry companions. 


Tailored Comfort for Small Breeds : Meticulously crafted and adjustable, these soft bibs are designed to perfectly suit the comfort and style preferences of small dog breeds. Whether you have a Chihuahua or a Toy Poodle, our bandanas guarantee a snug fit that's both comfortable and stylish.


Chic Triangular Design : Our innovative triangular design not only adds a touch of flair but also serves as a functional accessory. It's the perfect blend of fashion and practicality that your furry companion will absolutely adore.


Adorable Animal and Cute Fruit Patterns : Each bandana boasts a delightful selection of charming animal patterns and now, adorable fruit motifs too. Give your pet a unique way to showcase their personality, whether they're rocking playful paw prints or showcasing lovable fruit designs.


Premium Softness : Crafted from top-tier, soft materials, our bandanas gently caress your pet's fur, ensuring the ultimate in comfort and an itch-free experience. Your little one will be thrilled to wear these all day long.


Adjustable for the Perfect Fit : The adjustable feature guarantees a secure and comfortable fit, allowing your dog to move freely and confidently flaunt their newfound style.


Elevate your furry companion's wardrobe with our Fruitful Furry Fashions Triangle Bandanas and let them shine with elegance, charm, and a touch of fruity flair. It's time to embrace style that's tailor-made for your small dog. 

We are a company specialised in e-commerce founded in 2018, and since then we have managed countless of online stores.
Our mission is supplying you with the latest, most interesting and useful items whilst providing and excellent customer experience.
We believe that e-commerce is today's way of shopping and that it will grow more and more in the future. It provides us with many conveniences - we don't have to go further than our bed in order to do our shopping. We can instantly check the reviews of a particular product from people who already purchased. We take those features and try to take them to the next level so you can get the best possible experience.

Contact :support@woofchewy.com
WOOFCHEWY®.
HAPPY WOOFCHEWY® CUSTOMERS!
" Super fast and convenient shipping. The quality is excellent."
" Ever better than expected, exactly like described and pictured."
" Thank you WOOFCHEWY for you amazing support !"